To be notified of new items, specials & shows sign up for our mailing list. Choose from the e-mail or print version.


Essential Gear | Trip Planning
Books, DVD's & Targets
Order Catalog
Join Mailing List

Hydration Packs
Bug Protection & Safety
Shooting Sticks
Safari Clothing
Footwear & Gaiters
Custom Courteney
Hard Airline Cases-Guns & Ammo
Big Bore Leather, Cleaning & Access
Knives & Leathermans

Men's
Women's
Leather & Safari Canvas Luggage
Spirits Carriers & Accessories
Office Tools, Mammoth Ivory & Faux Ivory Pens

Rhodesian Teak Furniture & Canes
British Campaign Furniture: Rosewood
British Campaign Furniture: Mahogany
Zebra & Antelope Rugs
Trophy Room Furniture
Rare African Weapons/Antiques

Gifts by Price
New Products
Personalized Gifts
Join Our Mailing List
Show Schedule
2016-2017 Catalog
TV Commercial
Safari Blog
---
Search Products
View My Account
View My Cart

Returns & Refund Policy
Terms & Conditions
African Sporting Creations
1421 Lexington Avenue, Suite 257
Mansfield, OH 44907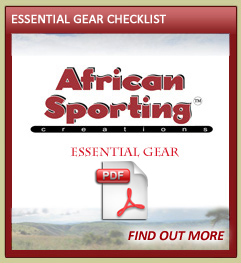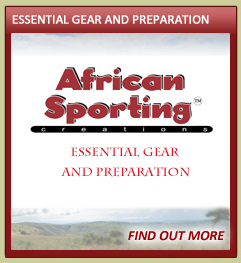 Deciding what gear to take on safari can be a daunting task. Even more daunting is determining how you will get answers to your many questions. Keeping track of what needs to be done and when, is key to your preparation. We simplify all of the above for you in this section. We have developed the information provided based on our personal experiences, conversations with hundreds of customers and discussions with our African PH Pro Staff. Please take the time to review all of this section.

Start out by printing the Essential Gear Checklist which includes a categorized listing of products. Once you have that in hand, go to the next section, Essential Gear and Preparation and start reading about the items we recommend.

The Essential Gear and Preparation section will help you determine which items you should bring and provides preparation information. This section is also filled with useful medical, travel, packing and preparation tips.

The Trip Planning Timeline takes the time sensitive information we communicated in the Essential Gear and Preparation section and breaks it down into three chronological horizons so you can keep track of the multitude of things that must be done as your trip approaches.

You will save time and receive more benefit if you begin with the first one and move through them in order. We believe it will help you experience a safe and successful safari.