"Absolutely the finest sticks available today are made by African Sporting Creations. Custom built for your height, they are available in various exotic hardwoods; are fitted with buffalo, zebra, or other exotic leather; and can be engraved with your name. While you might think they'd be heavy, they're actually lighter than competing metal and plastic versions, and they are far more durable. I've broken a few sets of modern sticks and have seen many more broken, but even African PHs, who work their shooting sticks incredibly hard year-round, don't wear out or break those made by African Sporting Creations."

Essential Gear | Shooting Sticks
"While most PHs have sticks for their clients, I'm 6-foot-4, and I don't shoot well bent over in a half-crouch. Jim Morando of African Sporting Creations makes beautifully crafted sticks that are as rugged as they are refined."
"My breakdown shooting sticks from African Sporting Creations were indispensable. I learned the hard way that not all shooting sticks are created equal. (After using the sticks provided by the PH's on the first day)."
"These shooting sticks were used extensively on a dangerous game hunt in Zimbabwe. They were used on standing shots in the tall grass and from the sitting position when they were taken apart. The (noise suppression) bushings enabled rattle. Free carry in the field while the threaded connector with the "0" ring provided tight an ositive assembly. Solid, steady minimum deflection and secure set ups with the groun pikes were aids to our hunters, enabling one shot kills on game at long ranges. Our field ester actually found the African Sporting Creations shooting sticks were superior and referred over the aluminum "telescope" ones our P .H. owned and normally used."

Over the years I have watched with fascination the American attempt to produce a suitable set aof shooting sticks. what various clients have brought out has ranged from the ridiculous to the gadget. Fold up, take down, give it a shake and - Sproing - it all flies into place.
Monopods that attached to the rifle and could be extended to give you a rest while standing ... pity about the three minutes that it took to set up, and so on and so forth African game has a reasonable idea about hunters ... our hunting seasons vary between eight months and all year. Slightly flexible sticks I have seen on many shooting sticks do not provide a quick, steady shooting platform and you might as well shoot off hand. Most of the areas where I hunt the ground is rock hard and the sticks need some kind of "non slip" base on them. Sharpening the sticks slightly works fine.
It is very hard to commercially market true African Shooting Sticks and people do actually want to practice with some before they come to hunt. A very good product that my tracker has been lugging around all year are the bipods and tripods from African Sporting Creations. The take down for air transport but I have left them assembled since they arrived.
"Tripod style Shooting Sticks are an African Hunters best friend, furnishing stability on off-hand shots, but it's important to practice with them extensively before the hunt. The ones from African Sporting Creations are available with zebra tops…really cool!"
"It is very difficult to find real handmade African Shooting Sticks. Made of durable Hickory (and now exotic woods as well) these are very stable and sport a leather-padded fork to prevent scratching the gunstock or camera."
"Jim, The Cape buffalo double rifle case is really nice! My Kreighoff .500 has a new home, did not get the "cup" concept until I saw it, great idea. Check is in the mail."
"Went the range this morning with Donna and the shooting sticks and damned if they did into transform her shooting. She probably did a full 50% better and lover them dearly. Wonderful and thanks again."
"I just wanted to say a big "thank you" and send along a few photos of my successful hunt. It was an incredible experience for my first big game hunt ever."
"If possible get some African Shooting Sticks and practice with those. One company, African Sporting Creations makes nice commercial ones."
"While black polymers and alloys give hunters useful items cheap, I prefer wood in things like shotgun stocks, bows and arrows and, well, shooting sticks. Sticks are still wood at African Sporting Creations, which manufacturers take-down Hickory sticks. They're beautifully made with machined alloy connectors. At 70" assembled they are tall enough for any offhand shot; at 36" disassembled, they are perfect for sitting or kneeling shots and will fit in your airline approved gun case. Sturdy and lightweight, they're also a lot more photogenic than the black ones!"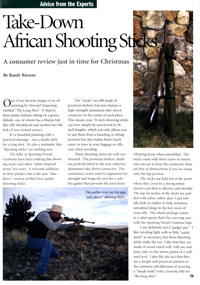 Read full length article
(PDF/1.4MB)
"The folks at African Sporting Creations have been making fine shooting sticks and other Safari Inspired items for years. A welcome addition to their product line is a new take-down version of their shooting sticks. I am definitely not a gadget guy. I like traveling light with as little equipment as necessary but these shooting sticks make the cut. "
"Our good friends at African Sporting Creations have bought out an excellent piece of field gear. I put the sticks through a rather rigorous evaluation in fair weather and foul. What happened? Absolutely nothing. Just what I was hoping for."
"Dear Jim,
I really like the African Shooting Sticks. Let me know if you need an endorsement."
Jim,
Just arrived back from Africa. Your sticks worked wonderfully. I never could have made the demanding 150 yard shot on my trophy kudu using the sticks in camp. I'll send some pictures of me shooting the kudu and buff off of them in a few days.
Jim,
At first I thought your product was a little pricey but after using and comparing them to several other (lower priced) products I have come to the conclusion they are worth every penny. Great product!

Jim: (first letter)
I received my sticks today. I never thought I'd hold a rifle so steady on such a thing but I was so very wrong. Have not tried them out on the .416 but was very impressed with the entire package. I will be taking them to Tanzania with me in a few months. Wish me luck!
Hello Jim: (second letter)
Back from Tanzania. Your sticks were quite the hit. If you would, I need three new sets, the platinum/hickory ones with the cape buff tops.

Jim, my son's zebrawood stalking staff arrived today. Refreshing to see all the nice touches you incorporated into them. In summary, they are much nicer than I thought they would be. Thanks for enclosing the holiday catalog and send me a Dagga Boy skinner when you get a minute. Regards,